Performance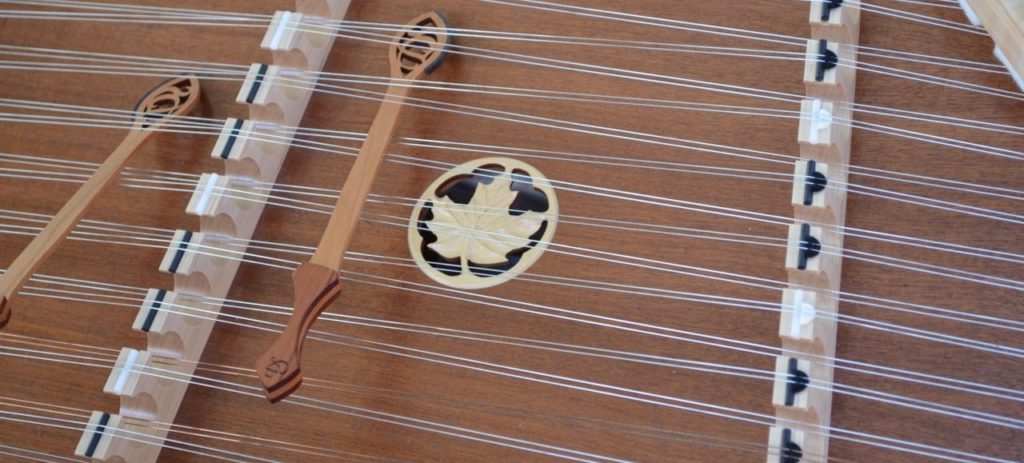 Clare Zuraw is a musician and teacher based in Michigan's Upper Peninsula. Trained as a classical pianist as a child, she discovered traditional folk music when she began playing the hammered dulcimer as a teenager. She performs an eclectic mix of traditional and original music on the hammered dulcimer, jouhikko, and piano.
For booking, contact Clare.
---
2022 Schedule
Public performances continue to be limited this year due to COVID-19. Stay tuned!
---
Selection of Past Performances
Thu. 1/7/21 7pm – Hiawatha Music Co-op Live from the Fold – virtual concert, solo hammered dulcimer
Sat. 1/25/20 – Heikinpäivä Tori (Hancock, MI)
Sat. 11/2/19 – 41 North Film Festival – solo hammered dulcimer (Houghton, MI)
Sat. 4/20/19 – Finnish Heritage Society – jouhikko presentation & performance (Canterbury, CT)
Sat. 10/20/18 – Finn Funn Weekend – jouhikko presentation & performance (Troy, NH)
Thu. 6/28/18 – Copper Country Contra Dance – with Dave Morehouse & Kevin Blackstone (Finnish American Heritage Center, Hancock, MI)
Sun. 6/24/18 – jouhikko performance with the Ilon Kaiku Kantele Ensemble (Jacobsville Chapel, Jacobsville, MI)
Friday 6/22/18 & Saturday 6/23/18 – Juhannus – Jouhikko building workshop with Alice Margerum & music workshop with Clare Zuraw. (Finnish American Heritage Center, Hancock, MI & Agate Beach, Toivola, MI)
Sun. 1/28/18 – performance with the Ilon Kaiku Kantele Ensemble (Zion Lutheran Church, Hancock, MI)
Sat. 1/27/18 – Jouhikombo at Heikinpäivä Tori – (Finnish American Heritage Center, Hancock, MI)
Tue. 1/23/18 – Jouhikombo at Heikinpäivä – lecture and performance with Alice Margerum, Matthew Durocher, and Oren Tikkanen (Finnish American Heritage Center, Hancock, MI)
Tue. 12/12/17 – Jouhikko Lecture & Demonstration – with Alice Margerum and Matthew Durocher (Portage Lake District Library, Houghton, MI)
Sat. 11/4/17 – 41 North Film Festival – hammered dulcimer with Kevin Blackstone (Houghton, MI)
Sat. 10/21/17 – Keweenaw Co-op Harvest Festival – solo hammered dulcimer (Hancock, MI)
Fri. 10/20/17 – Copper Country Community Arts Center 25th Anniversary Celebration – solo hammered dulcimer (Hancock, MI)
Sun. 10/8/17 – Italian Hall Memorial Fundraiser – piano accompaniment for The 1913 Singers (Calumet, MI)
Sat. 9/23/17 – Keweenaw National Historical Park – hammered dulcimer with Kevin Blackstone (Calumet, MI)
Sat. 9/2/17 – Lake Linden Farmer's Market – solo hammered dulcimer (Lake Linden, MI)
Sat. 8/19/17 – Tunes at the Tori –hammered dulcimer with Kevin Blackstone (Hancock Tori, Quincy Green, Hancock, MI)
Fri. 7/7/17 – Music on the Menu – solo hammered dulcimer (Portage Lake District Library, Houghton, MI)
Thu. 4/27/17 – Music at the Museum: Songs of the Copper Country – hammered dulcimer with Oren Tikkanen [guitar, mandolin, vocals], Alice Margerum [vocals, mandolin], and Kevin Blackstone [guitar, banjo, vocals] (Carnegie Museum, Houghton, MI)
Sat. 4/8/17 – Night of Hope Relay for Life – solo hammered dulcimer (Rozsa Center at Michigan Technological University, Houghton, MI)
Sat. 2/18/17 – Zik's Apres Ski – hammered dulcimer with Kevin Blackstone (The Pines Resort, Copper Harbor, MI)
Wed. 2/1/17 – Jouhikko: Forgotten Finnish Folk Fiddle? – lecture by Alice Margerum on the history of the jouhikko (Calumet Public Library, Calumet, MI)
Sun. 1/29/17 – Heikinpäivä Hymn Sing & Concert – jouhikko with The Ilon Kaiku Kantele Ensemble (Zion Lutheran Church, Hancock, MI)